This is the default MyBB Theme with improved layout. It's not a full responsive implementation, but will scale and display fine on medium sized devices and up.
It features:
1) Increased font size and line heights for improved legibility.
2) Roboto font implemented.
3) Responsive postbit:
- Horizontal view for small screens.
- Classic view for larger screens.
4) Easy to modify Header & Footer.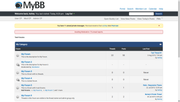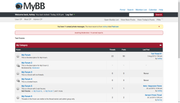 Attached Files
(Size: 23.88 KB / Downloads: 0)
(Size: 23.88 KB / Downloads: 0)